Welcome to the Cottage on Bunker Hill Weekly magazine. Every week I like to give you a little peek behind the scenes, what's new on the blog, & ideas and projects I've found around the web and from my blogging friends that I think you will like.
New This Week at Bunker Hill
Zinnias are such a fun flower to grow…plus they are so easy!! I love a non-fussy flower, don't you? Check out my guide to see a few tips and a bunch of different varieties that I am growing.
This week I joined a few of my friends to bring you a variety of great ideas and projects to try this Fall. I shared my Dried Wheat Centerpiece.
I really like how this project came out! It was super easy to do too! I used oven-bake clay and a few leaves from my yard to create these Fall trinket dishes. This is a great project to do with kids/grandkids too (I'm sure they will pick another color scheme!!)
---
What I've Been Up To…
I've been flying solo this weekend!! My husband had a college baseball reunion in Northern Vermont and left Friday morning and my son was working and over his buddies for most of the weekend…I can not remember the last time I had the house to myself all day and night!!
I got so much done this weekend that has been piling up and did a deep cleaning of most of the house! It's that time of year after playing all Summer long that I have to get back on track!
I've shared this little Bissell Steamshot before. It was only around 30 bucks and I love this little thing!! I used it yesterday to steam the dirt out of the grout on my tile kitchen and bathroom floors. It has a grout attachment. Just be careful when you are using in and follow the directions.

---
I put away some of my Summer decor to make room for some new stuff (well, new old stuff…lots of thrifting and flea market finds for Fall!!) On Tuesday check back to see a project that I finished up today. It was the $5 big vase that I bought on my trip to Todd Farm flea market last month. It came out really cool!
You know I love a good thrift store haul! I hit my local Savers store last week and boy did I score!!! I swear I was having heart palpations because I was finding so much great stuff!! Stay tuned to see what I do with all of this stuff for Fal!! I have some good ideas swirling around in the 'ole noggin!!!
I have a fantastic money-saving tip for you all!!
Artwork can be expensive… but did you know that you could go to the National Gallery of Art and download thousands of paintings that you can print at home??? for free!!!!! Yes, for free!! All you have to do is go to the Collections page where you can narrow down what artwork you are looking for.
I printed out this Renoir of peaches to use in my kitchen. One thing I like to do if I'm printing out artwork is to use canvas inkjet printer sheets.
To frame it I actually used a small shadowbox frame (It was from the Target dollar spot last Fall) and just used painter's tape in the corners to secure it. I needed a very thin frame because I want to put it on the narrow ledge at the back of my kitchen counter.
Here are a couple more that I printed out today! You can save these images and print them out too!
---
A few more things…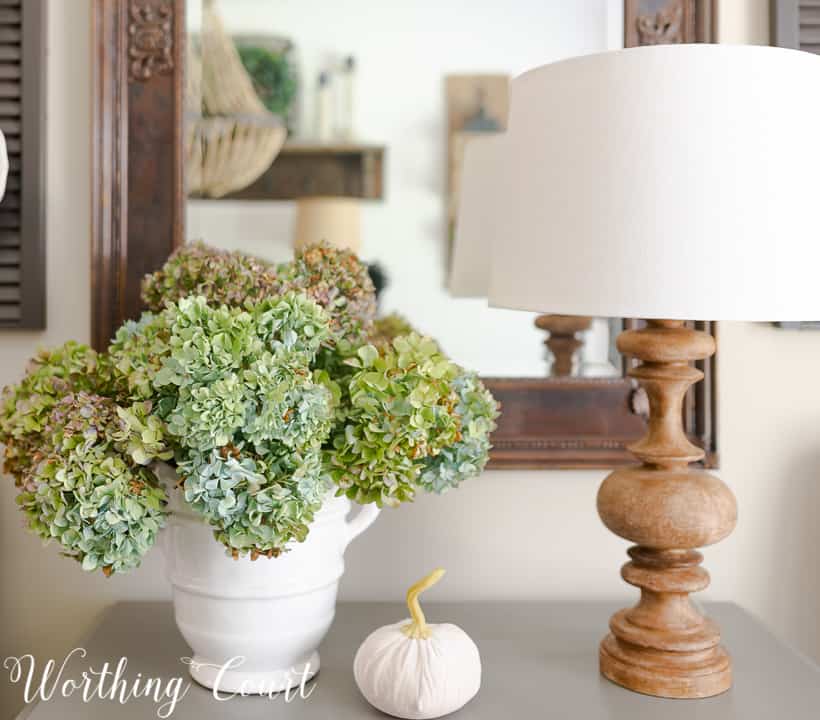 I got the chance to meet Suzy from Worthing Court a few weeks ago at a conference. I have been a fan of hers since before I was blogging when I was just a home decor nut!! She is just the nicest too!
This week she has a good read about getting ready for Fall and even has a free printable timetable.
---
I saw these leaf napkin rings from Rachel the other day and LOVED it!! She is crazy creative but you can totally make these napkin rings too…I swear they aren't hard!! One reason that I love to DIY things is you can make things that are unique to your home.
Isn't it so much more fun to make some cool napkin rings for your Fall dinners than to order them off of Amazon??
---
---
Someday I'm just going to hop on a plane and show up on Kim's doorstep!! Her house is so flippin' adorable! This week Kim is sharing so many beautiful ideas for Fall home decor and decorating that you have to see!
---
As we quickly approach September it's time to start thinking about changing out the fading flowers from our Summer planters.
Stacy walks you through the best plants to use for Fall planters. She also shows you her planters and what plants she used to create them.
That way you can create the same look at your home!
---
Do you know my friend Robyn? She is such an incredibly gifted decorator. She pulls together the most amazing tablescapes with ease…and wait until you see what that girl can do with a cabinet! Today you need to see her 5 Easy Ways Use Old Vintage Books in Home Decor
---