Looking for a no-bake treat to make for the holidays? Try making this easy double chocolate holiday Oreo bark! You can whip up a pan in just a few minutes and it's sure to be a hit.
16 of the Best Holiday Cookies & Treats
Not only am I sharing how to make double chocolate Oreo bark today but 15 of my blogging friends are sharing their favorite holiday treats today too!!
For those of you visiting from my friend Jen from Midwest LIfe & Style welcome! I have to make her Chocolate Covered Peanut Butter Balls for my boys!
How to Make Double Chocolate Oreo Bark
What You Will Need:
2 Bags White Chocolate Melting Wafers (I highly suggest Ghirardelli!)
1/2 Bag Milk Chocolate Melting Wafers
10 Oreo Cookies- crushed
Mini M&M Candies
Cookie Sheet Lined w/ Either Silicone Mat or Parchment Paper
Step 1. Melt Chocolate wafers
For this double chocolate Oreo bark, I am using both white and milk chocolate melting wafers. My preferred method of melting chocolate is by using a double boiler.
I poured the 2 bags of white chocolate wafers into a bowl and placed it on top of a pot half filled with water over low heat. Stirring constantly until the wafters melt smoothly.
Then I repeated the process with 1/2 a bag of the milk chocolate wafers.
You have to move quickly once the chocolate is melted because it hardens pretty quickly. While I was melting the milk chocolate wafers I left the white chocolate bowl on the pot of hot water (burner turned off)
Step 2. Add Crushed Oreos
The easiest way I find to crush Oreos is by putting them in a plastic baggie and using a rolling pin to crush them into small pieces.
Add the crushed Oreos to the bowl of melted white chocolate and stir them in.
Spread the white chocolate mixture onto a cookie sheet lined with either a silicone mat or parchment paper.
You want to get the mixture roughly 1/4 inch in thickness. You are not trying to fill the entire cookie sheet.
Step 3. Drizzle Milk Chocolate
Once the white chocolate mix is spread on the cookie sheet it's time to drizzle it with the melted milk chocolate.
Step 4. Add Mini M&M's
Working quickly before the milk chocolate starts to harden sprinkle the mini M&M's over the melted chocolate.
Step 5. Let Harden & Break into pieces
To speed things up I put the tray of Oreo bark into the fridge so the chocolate could harden.
It only took about 10-15 minutes. You will be able to tell if it's ready if you can lift up the corner and the entire sheet of bark comes with it.
Now just break up the double chocolate Oreo bark into pieces. Make them as large or small as you like.
Double Chocolate Oreo Bark
Now all you have to do is enjoy!! My teenage son said I need to make this every week because it is so good!!
Another Version of Oreo Bark to Try!
For an even chocolatier Oreo bark, you could use just milk chocolate wafers and chocolate Oreo cookies!! I made this with the other 1/2 bag of milk chocolate wafers left over from making the bark with the white chocolate!
So to make a full recipe of this version of the Oreo bark you would use 2 Bags of milk chocolate melting wafers, 10 crushed chocolate Oreos, and mini M&M's.
---
Easy Double Chocolate Oreo Bark
Additional Time:
10 minutes
Ingredients
2 Bags Ghirardelli White Chocolate Melting Wafers
1/2 Bag Ghiradelli Milk Chocolate Melting Wafers
10 Crushed Oreos
Mini M&M Candies
Instructions
Line a cookie sheet with either a silicone mat or parchment paper.
Melt the 2 bags of white chocolate wafers. I prefer melting chocolate in a double boiler, stirring wafers until they are fully melted. Leave the bowl over the pot of warm water (burner turned off) while you melt the milk chocolate.
Melt 1/2 bag of milk chocolate wafers
Crush 10 Oreo cookies into small pieces. Place Oreos in a plastic baggie and use a rolling pin to quickly crush cookies.
Spread white chocolate mixture on a cookie sheet until it is about 1/4 inch in thickness. It won't cover the entire sheet.
Drizzle melted milk chocolate over the top
Sprinkle mini M&M's over the melted milk chocolate
Pop the cookie sheet into the fridge to speed up cooling.
Break the bark into pieces.
Store in an airtight container.
Nutrition Information:
Yield:

24
Serving Size:

1
Amount Per Serving:
Calories:

82
Total Fat:

4g
Saturated Fat:

2g
Trans Fat:

0g
Unsaturated Fat:

1g
Cholesterol:

1mg
Sodium:

55mg
Carbohydrates:

12g
Fiber:

0g
Sugar:

7g
Protein:

1g
More Favorite Holiday Treats
---
Next up is my friend Tammy who is sharing one of my favorite treats! Go check out her Easy No Bake Christmas Cookies.
---
Christmas Cookies and Holiday Treats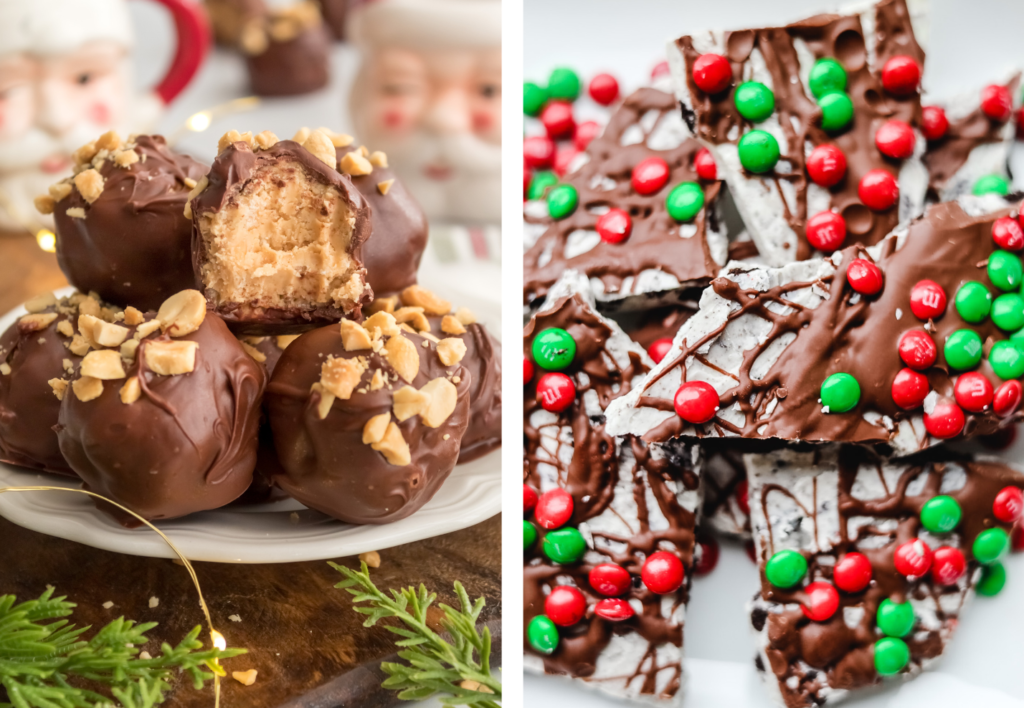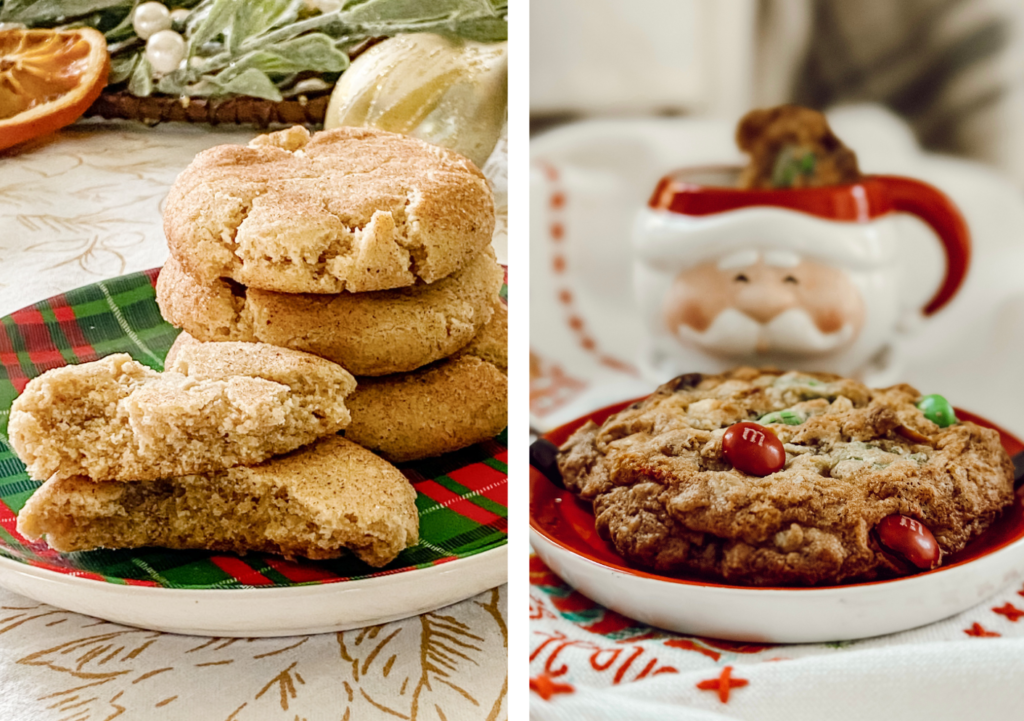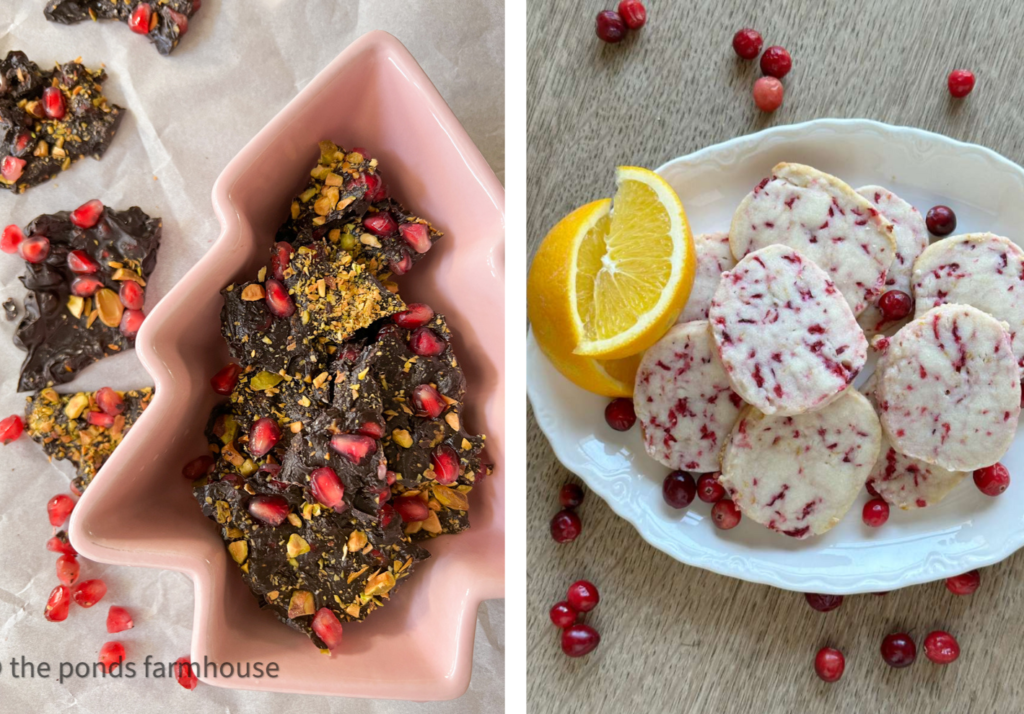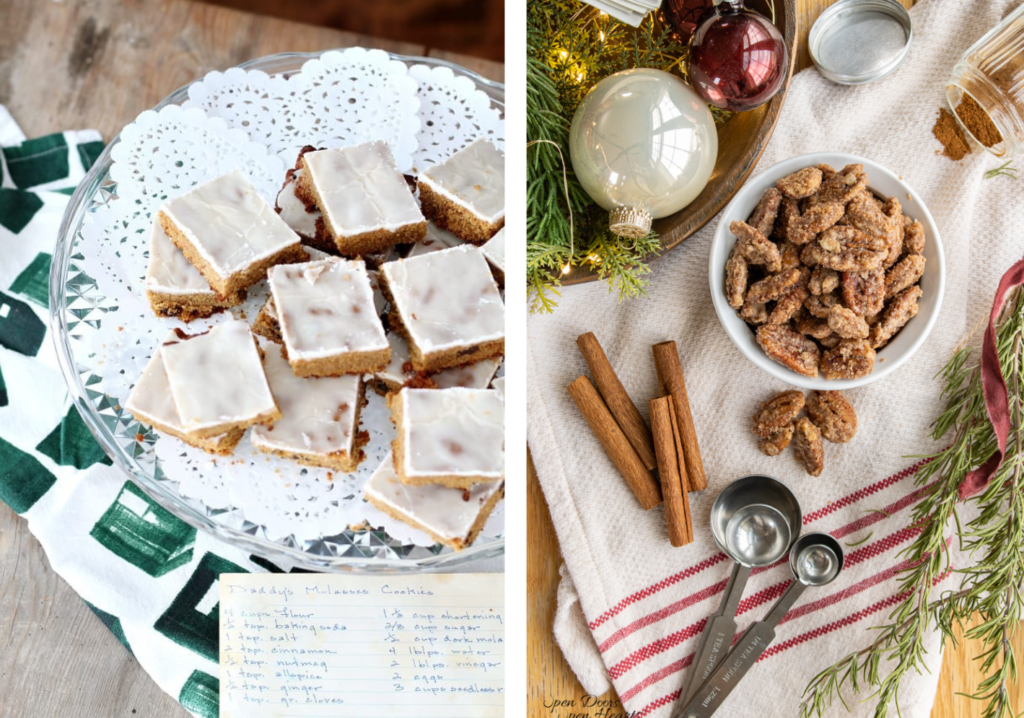 ---
---