I'm going to show you how to make topiary trees the super easy and affordable way today. You won't need many supplies or time for this project either!
9 Winter DIY Projects
Today I am joining 9 of my blogging friends to bring you some fresh ideas for your winter decorating. If you are visiting here from Anne and Ann Marie of SImply2Moms aren't they great…imagine living across the street and working with your bestie!!!
If this is your first time visiting Cottage On Bunker Hill…welcome, I'm Jennifer and I love to DIY and decorate! You can see all my projects here.
Let's Make Topiaries
OK, OK… I know it's January but I miss my garden and need to bring a little bit of the outdoors inside to brighten my mood!! To be honest, I become a plant hoarder in January…oh I'm not kidding…I've never met a plant I haven't wanted to put in my carriage!! I just feel better when I have plants and flowers around me during this long stretch of winter.
So for a fun project, I wanted to make some topiaries to spruce things up around here. I wanted them to be easy and affordable to make…let's see if I can do it!
This post may include affiliate links; you can read my disclosure policy here.
Supplies for making topiaries
Spackling Compound/ Paint
Greenery and Floral Picks
Sticks
step 1. preparing the terra cotta pots
I had a few terra cotta pots in my stash already but they are readily available at craft stores year-round.
I wanted the pots to have the look of old pottery. The trick I am using is to spread the spackling compound onto the terra cotta pots. I purposely didn't cover every part of the pot with the spackle.
This step is optional, you could skip this and just move on to the painting…it will still come out looking great!
The spackling compound goes on pink and dries white.
Once the spackle was dry it was time to paint the pots. For my pots, I chose off-white chalk paint.
Once the paint was completely dried, I lightly brushed a dark antiquing wax (Waverly Antique Wax) lightly over the pots. The dark wax helped to highlight the texture that I created with the spackle.
Then I popped a piece of floral foam into each of the pots. (cut off from a large floral foam block)
adding the greenery
For each topiary base, I am using 2 thin sticks from my yard. I cut the sticks down to about 1 foot each. Using small pieces of floral wire, I twisted the wire at the top and bottom of the sticks to secure them together.
Now to make the topiary part. For this topiary I'm using 4 greenery picks from Hobby Lobby ($1.99)
Now, I held 1 pick at a time to the top of the sticks and wrapped the brown floral tape around the picks to secure them to the sticks.
Once I had the first one secured I added the next one and continued wrapping the floral tape around the sticks.
You want to make sure the green floral picks are covered with the brown tape completely…no green peaking out.
Then I just popped the sticks into the center of the floral block in the pot and pushed it through to the bottom.
To cover the floral foam, I added green moss ( I also pushed some of the moss down into the spaces around the foam).
Once I had the pot filled with green moss, I added a small bunch of Spanish moss around the base of the sticks.
making a lavender topiary
For a second topiary, I wanted to make a lavender one. I followed all the same steps as the one I made using the greenery picks but this time I'm using 4 lavender picks (also from Hobby Lobby)
After I had the topiary together, I shaped the lavender picks to mimic real lavender topiaries.
I bent the picks into almost an L shape.
For the greenery topiary, I bent some of the stems downward
And here's the finished topiaries! Didn't they come out pretty?? So for under $20 I made 2 unique topiaries that I can use year-round in my home.
I had another small pot that I used to make a short topiary. This time I popped a herb stem right into the floral foam to make it look like a plant.
It's always better visually to have an odd number of items placed together when you are decorating.
Next up on our WInter DIY Project hop is my friend Jennifer from Midwest Life & Style. She is going to show you how to make beautiful winter hurricane candle holders.
Then be sure to check out all the projects today!
Winter DIY Home Decor Blog Hop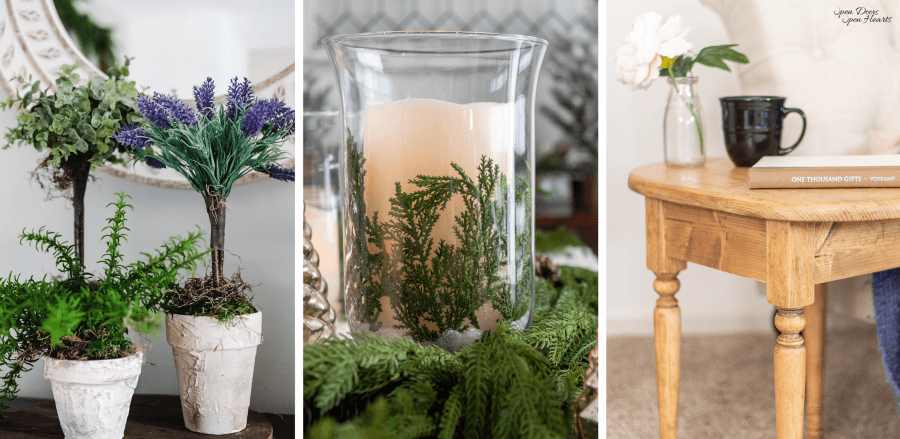 Cottage On Bunker Hill | Midwest Life And Style | Open Doors Open Hearts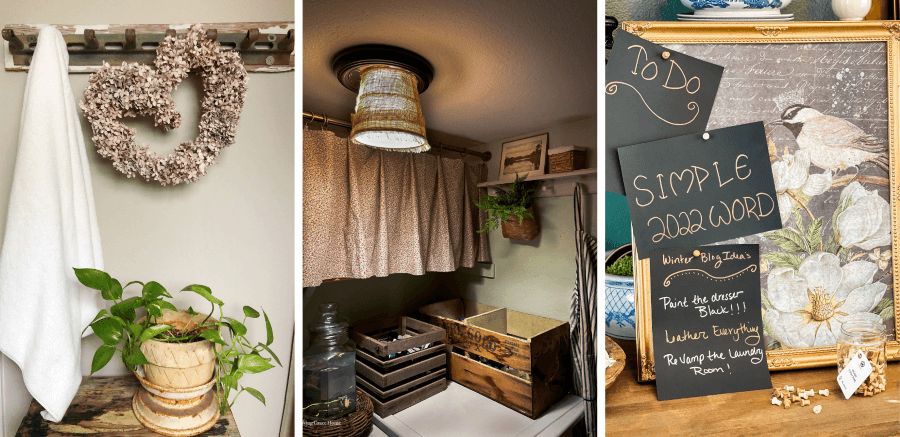 Vintage Home Designs | Loving Grace Home | Amy Sadler Designs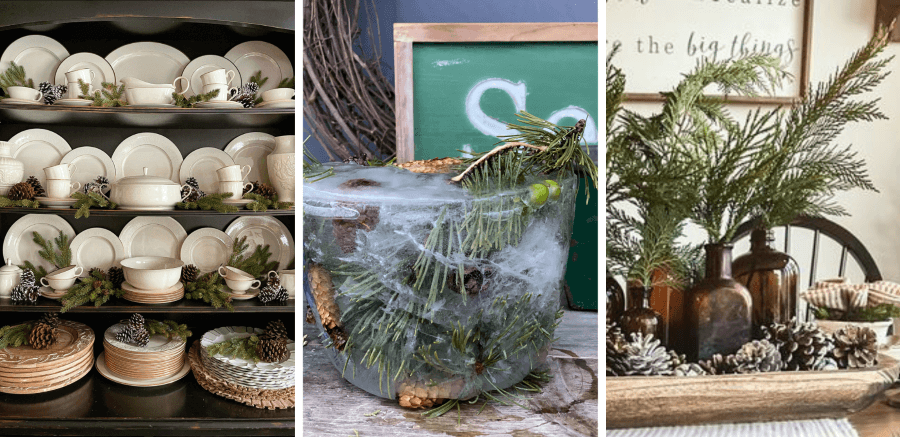 ---