Are you looking for the perfect hostess gift to bring for the cook this holiday season?? This DIY kitchen herb garden is quick to put together and a great alternative to a bouquet of flowers!
How to Make a Quick DIY Kitchen Herb Garden
I'm always trying to come up with creative ideas for a hostess gift to bring to holiday parties that doesn't break the bank!! This kitchen herb garden planter can be made in just a few minutes, and the plant markers I will show you how to make also take a couple of minutes to DIY.
The great thing about this is you can probably grab small herb plants in the produce or flower section of your grocery store at this time of year. If not, your local nursery probably stocks small herb plants with their houseplants during the winter months.
This post may include affiliate links; you can read my disclosure policy here.
Get Small Herb Plants
For this kind of kitchen garden look for smaller growing herb plants like thyme, oregano, sage, and rosemary. A plant like basil will just get too big for a small planter like the one that I am going to put together.
I am going to use rosemary, thyme, and sage. These herbs are also perfect for holiday cooking!
Repot the Herbs
The first thing you will need is a larger planter pot to transplant the herbs. If you are looking for one…I have a giant stack in my garage!!!
I started with the rosemary plant because it was the largest one by gently removing it from its original small pot, and loosening the roots a bit before popping them into the larger planter.
Then I added the sage and finally the thyme plant. I didn't need to add any additional soil to the pot.
Make sure you press down on the loose soil to compact it a bit.
I wrapped the planter in brown kraft paper secured with a piece of jute twine. A simple way to dress your hostess gift up a bit and keep with the natural theme of the planter.
DIY Plant Markers
For an extra special touch to my hostess gift, I am going to make quick plant markers with wood slices and mini letter stamps.
PLANT MARKER SUPPLIES:
On each wood slice, I stamped the name of one of the herbs in the kitchen garden planter.
Then I grabbed 3 small wood skewer sticks that I had in my craft stash so I could stick the markers into the planter.
I glued the stick to the back of the plant tag, I just held it in place until the glue set to keep it straight.
Didn't they come out cute?? It really only takes a couple of minutes of your time to give your presents a more personal touch!
Another idea to add to your herb planter is to include a small pair of herb shears to your gift..be careful when transporting the planter because they are sharp!
One other cute idea for this planter is to wrap a pretty flour sack kitchen towel around it and secure it with a piece of jute twine or ribbon.
I did make a gift tag using a blank brown tag and glued a mini pinecone on it, threaded jute twine through it with a dried orange slice.
---
Welcome to the Handmade Gift Series!
I will be joining 3 of my DIY friends for the next few weeks bringing you fun handmade gift ideas that you can make this holiday season!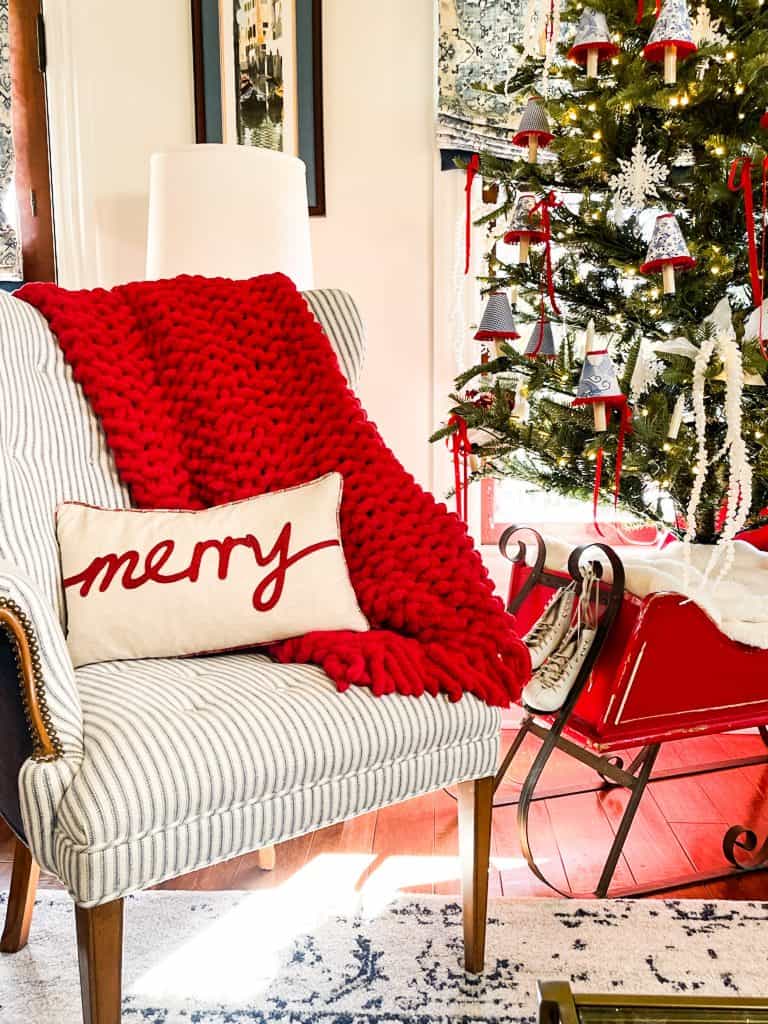 ---