An outdoor table setting for a warm October harvest dinner in New England. Using the final flowers of the season to decorate a romantic table.
Today I'm joining a group of my favorite people to share some beautiful centerpiece ideas for your Fall get-togethers. Thank you to Alyia from Open Doors Open Hearts and Jen from Midwest Life & Style for organizing this for us! Today I'm sharing my Fall Harvest Tablescape.
If you are hopping over from Kelly at The Tattered Pew isn't she awesome-sauce!! I was lucky enough to meet her, Alyia, and Jen at the Haven conference over the Summer and they are all amazing humans!! I'm Jennifer, a born and bred New England gal who absolutely loves Fall!! It's so beautiful here (and smells amazing too!)
You know it's been a warm Fall in New England when it's October and you still have a pair of sandals by the door! I can't remember the last time that we had all our patio furniture out and can still sit outside at night at this time of the year and not be cold!
To celebrate my favorite month and my birthday I set up the prettiest Fall harvest tablescape over the weekend.
Making a Fall Centerpiece
My cutting garden is still producing such beautiful blooms every day. It's so nice to go out and cut a few fresh stems every morning.
My dahlias, zinnias, celosias, strawflowers, and Montauk daisies are still going strong! I am just in love with the dahlias!
For this harvest arrangement, I'm using a warm color palette: reds, oranges, & yellows.
Can you even stand how pretty that dahlia is???!!! All my dahlias (except the white one) are from The Flowering Farmhouse
Choosing a container
Some of the dahlias have shorter stems. So when choosing a container to make a Fall flower arrangement in I wanted something wider and a bit low so the dahlias could really stand out.
I had a terra cotta planter pot that had a pretty shape that I never ended up using in my garden this year. A quick coat of Rustoleum hammered copper spray paint made it look like metal ( I love this stuff…I've used it a few times this Fall already!!)
Since my bowl had a hole in the bottom, I added a smaller container with water inside of it.
When you are making a flower arrangement in a bowl, if you add a smaller container inside of it your flowers will stay closer together and be easier to arrange.
The different textures of the flowers add to the fun of the fall arrangement! One of my favorite flowers that I grew this year was cockscomb celosia..they add so much visual interest in the cutting garden! I'm saving all the seeds to grow them again next year ( each stem has hundreds of seeds too, they look just like poppy seeds!)
My zinnia beds were perhaps my favorite flowers this year! I grew 8 different types of seeds that I purchased from Floret Farms. For any newbie gardeners out there…GROW ZINNIAS!! They are so easy, I basically planted the seeds in my raised beds and forgot about them!! I've had thousands of flowers this year from a few packets of seeds.
I expanded my garden this year to make room for a cutting garden and I am so happy that I did!! It was worth all those backaches!!
Setting a Fall Harvest Table
To set up my Fall harvest tablescape I started with a small square table and draped it with a large blue & white scarf that I have.
Next, I added a gooseberry garland that I've had for a long time ( I just checked and I bought it in 2013 from Amazon!!) I've also had the rattan pumpkins for probably that long too, they were fromthe Christmas Tree Shops.
If you know me then you know I love a good antique/thrift store find! I think I paid $10 for this candelabra. I've used it countless times over the past few years too…good investment!
For the place settings, I used seagrass leaf placemats (Homebody) with white and brown dishes. A there's nothing like a fresh glass of New Hampshire apple cider!
One of my favorite purchases from last Fall was these Better Homes & Gardens lanterns. I arranged them around a vintage soda crate with a variety of Fall favorites…pine cones, mini corns, and gourds.
It was such a pretty Fall New Hampshire evening! Such a nice way to spend part of my birthday.
As the sun began to set the candles started to give off such a pretty glow! Even if sunset is around 6 o'clock…
Thank you so much for joining me on my Fall Harvest Tablescape tour! Please go visit Stacy of Bricks 'N Blooms next!! She has some great ideas for simple centerpieces. Stacy is also an amazing gardener, you have to check out her YouTube channel where she gives tours of all her gardens.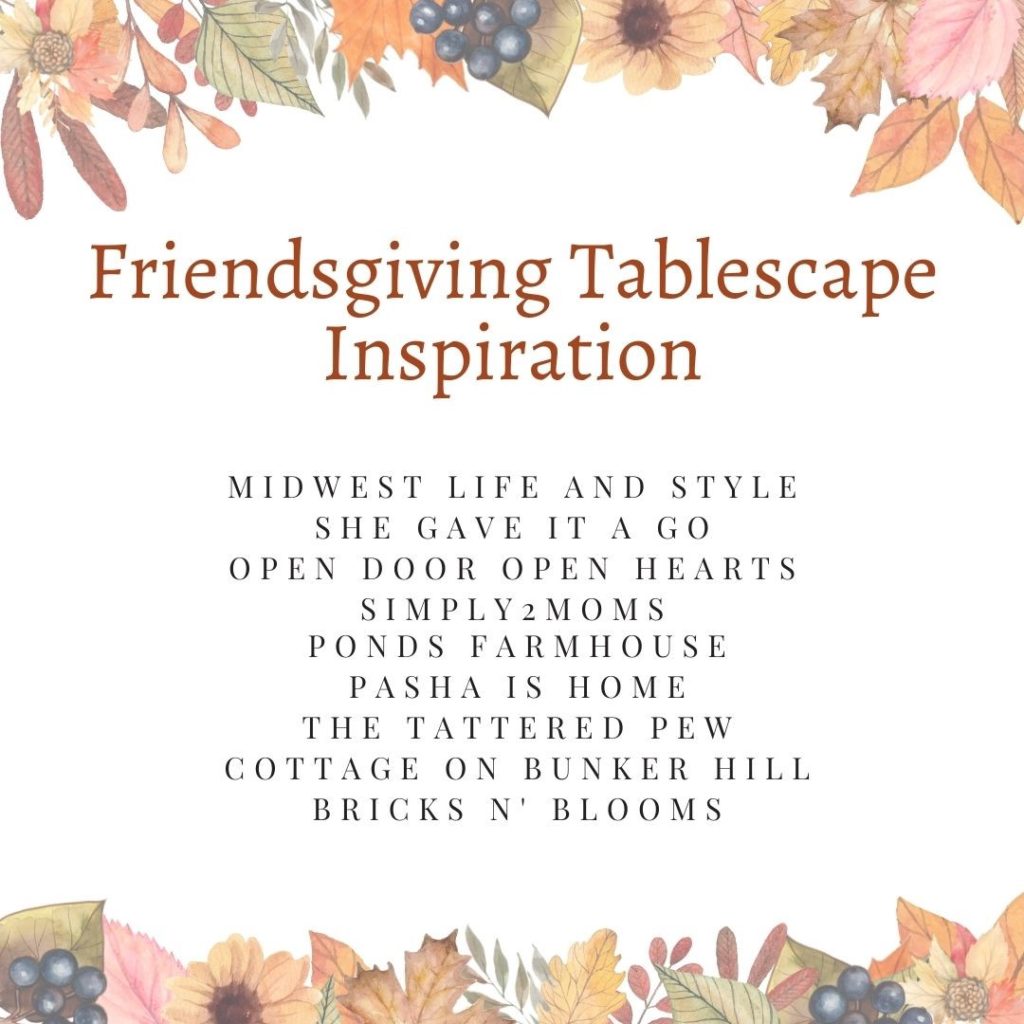 Midwest Life and Style | She Gave It A Go | Open Doors Open Hearts | Simply 2 Moms

Ponds Farmhouse | Pasha Is Home | The Tattered Pew | Cottage On Bunker Hill | Bricks n' Blooms