The Weekly Rewind is where I get to share what has been going on behind the scenes, things I've seen while out shopping that I think you would all like, and inspiring pictures and projects from around the web.
What's Been Happening
It seems every week here on Bunker Hill has been jam-packed with things to do!! I have to be honest after I closed my home daycare a while back I thought that I would have so much more time in my day…but I just don't know where the time goes!! My days are just as busy.
My garden is popping!! June is always such a big growth month for New Hampshire gardens. In May it seems like our gardens are dragging their feet then you wake up one morning and everything is lush and blooming!!
This post may include affiliate links; you can read my disclosure policy here.
I was so happy to see these foxgloves flowering! I added a few plants last Spring but wasn't sure if they would come back. I've spent the Spring trying to figure out what the voles took out….spoiler alert, they ate so many of my favorite plants!!
On Thursday I woke up and some of my peonies had opened!! They are right outside my kitchen window in my shade garden so when I opened the curtains in the morning I was so happy!
I'm working on an early June garden tour to share with you this week! I feel like I've spent the Spring with tools and yard carts and piles of plant supports everywhere that I haven't shared my garden yet!
One thing I added to my outdoor space this week was a new potting bench. It's on rollback at Walmart and is $99 now! Not too hard to put together at all, all I needed was my drill!

New on the Blog
coastal style
I am all about comfortable coastal style!! Way before this year's "Coastal Grandmother" trend. I guess I'm an O.G. !! Cool comfortable clothes that look cute…with a preppy edge…yup, that's been my vibe since I can remember!
Here's something new I'm trying out. If you click on the icons on the picture it will show you each of the items.
I really love the blue and white striped dress! It's from Walmart and is marked down to $16.50!! Plus it's a linen & cotton blend and so comfortable!
See the entire post on My Coastal Summer Essentials to get all the details!
---
summer projects
Looking for Summer projects??? Well, I didn't realize how many I had until I started looking!! I rounded up 12 of my reader's favorite projects...which one is your favorite?? I can never pick my favorites…it's like picking your favorite child!!
---
bloggers' best home tours
This week is the Bloggers' Best Summer Home Tours! There are 30 bloggers opening up their homes to share their Summer style ideas. I looooove seeing what everyone has been up to and I get so many ideas and am so inspired by this group of talented ladies!
I starting off the week of tours on Monday. I'm sharing my patio area all dressed up for Summer! So please check out how we are Celebrating Summer in New England and then get links to all the other beautiful spaces.
Do you want a little behind-the-scenes real-life vs. what you see in photos??? Of course, you do!! Well, I was setting up my patio for this home tour photo shoot over the weekend and was going to make a pie…well, when I saw that Pillsbury pie crust was $4.19 now at my grocery store and the blueberries were $4 a pint I said no way..it was so much more expensive to make a pie so I grabbed one at the bakery there.
(OK, I don't want any comments that I should have made my crust because it's the one baking thing I do not like to do. LOL!!!)
Anyway back to my sad story!!! When I opened the pie box to bring it out to display part of the crust was entirely missing and it looked awful…I thought "hey, maybe I squished the box on the way home" but nope…the broken crust wasn't even in the box!
So someone packed it up this way and hid the broken part on the side that was covered with cardboard and showed the pretty part at the cellophane window.
Well, the show must go on (and I was running out of daylight!!)… So that is why you will see the pie already cut in my home tour pictures!!!! But we will keep that just between you and me…
This Week's Inspiration
How cute is this??? I love what Rachel from The Ponds Farmhouse made with pressed herbs last week.
To fill up all of your beachy cottage dreams…check out Kim's Summer Home Tour over at Shiplap & Shells!
Are you looking for a quick and easy weeknight dinner idea??? This Chicken Ramen from Chelsea's Messy Apron is one of my go-to meals when 1.) I have no desire to make dinner and 2.) when I just have a couple of pieces of chicken left to cook.
It's also a budget-friendly dinner…because yikes, how much have your groceries gone up (says the Mom feeding hungry guys every night!!)
Oh, and she has amazing cookie recipes too (I've been dying for a yummy cookie lately!!)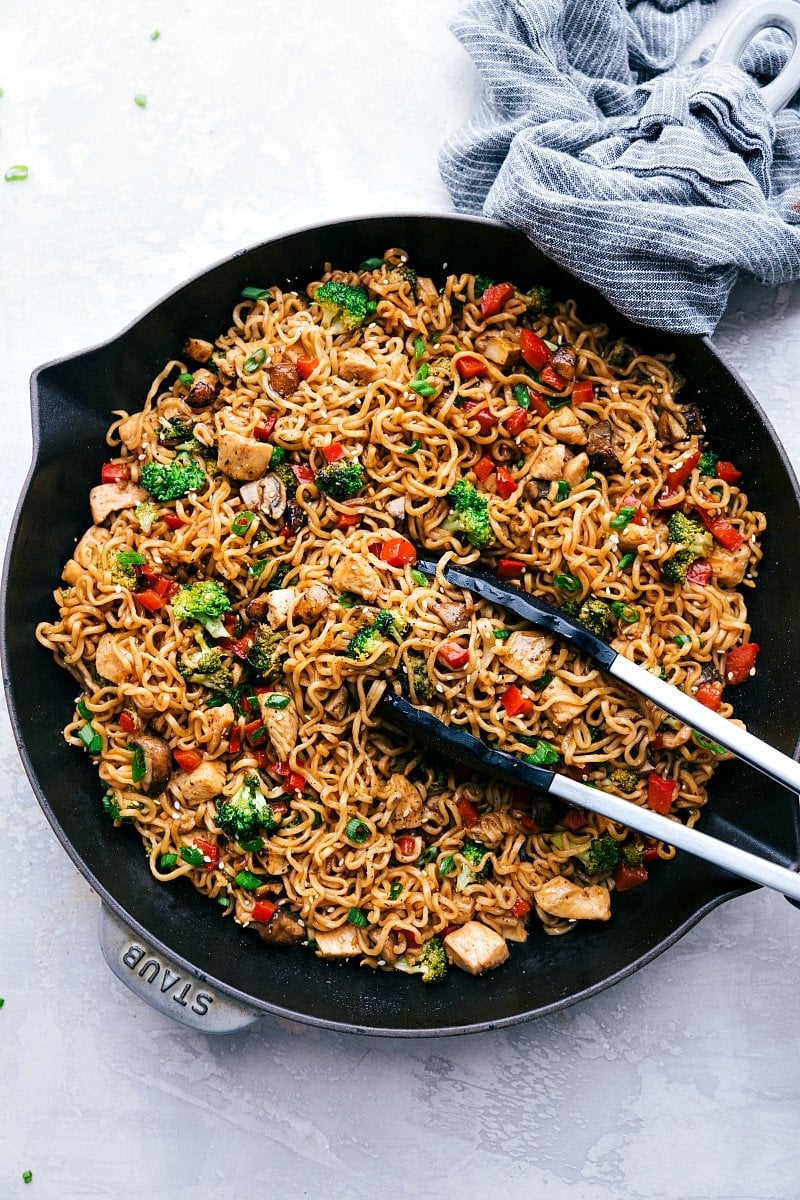 My sweet friend Aliya from Open Doors Open Hearts is featured in the new issue of American Farmhouse Style Magazine and I squealed when I saw her in it!!! I am over the moon happy for my friend…and the feature is just beautiful!!!!
I know I have mentioned it a few times here on my blog but you should check out your local library and see if they are part of the online state library system where you can have free access to thousands of books and magazines!!! Seriously, there are like 4,000 different magazines and I read all of those expensive design and garden magazines for free!!
Since we are spending so much on gas why not save money somewhere else and not have to give up something like flipping through your favorite magazines!!! So call your library today and see if they participate.
Be sure to check out Stacy from Bricks N Blooms June Garden Tour on YouTube!!! It's gorgeous…
Coming Up…
This week I am going to show you a simple and pretty 4th of July decoration…really you can hang it up all Summer!!
My Kitchen Patio Garden
June Garden Tour
Summer Porch (if the yellow pollen ever goes away!!!!)